Activities
---
Saturday 8th January 2022
---

JANUARY 2022
FREE entry to Kew Gardens (Full)
Sunday 16th January (from 12pm)
Blow away the cobwebs and start the new year with a visit to the ever-popular Kew Gardens. It may be cold but the Gardens are still thriving with winter greenery. Take a stroll down Holly Walk near the Temperate House to see one of Europe's most comprehensive holly collections, planted in 1874.
FREE Bead Crafting and Jewellery Making Workshop (Full)
18th January – 19th March (10am – 12pm)
Find out how to make a necklace, how to make earrings or design your own bracelet! Our jewellery-making classes with Beverly are fun, relaxing and creative.
FREE Creative Digital Photography (Full)
20th January – 31st March (1pm – 3pm)
This course will help you to explore the creative potential of your smartphone and/or tablet and develop an understanding of how to see the world with a 'photographer's eye'.
WALK and Talk Tour with Chris Barlow – Imperial War Museum (Full)
26th January (11am)
The Museum houses a very impressive collection of paintings alongside the usual "War" collection and is far from being a "celebration" of victory/war but takes a much more thoughtful approach
West End Community Trust Community Supper
Thursday 27th January, 7pm – 9pm at St Anne's Church
Viola and Neal will be back next month, with their ever popular get togethers. An evening of good food and good company.
Please email Viola Etienne (westendcommunitytrust@gmail.com) for more details
SECOND Herbal Workshop (1 Space left)
Sunday 30th January (2pm – 4pm)
Charlotte returns to Phoenix Garden with another workshop this time focussing on Fire Cider (a traditional recipe for chasing away winter colds).
Cost £2.00 (more details to follow).
FREE entry to the Queens Gallery (Full)
(Masterpieces from Buckingham Palace)
Monday 31st (10:30 – 1pm)
View some of the most famous paintings in the Royal Collection in this new exhibition at The Queen's Gallery, near the entrance to the Buckingham Palace Garden. Get up close to masterpieces by some of the world's greatest and best-known artists – including Vermeer, Rembrandt, van Dyck, Rubens, Titian and Canaletto.
FEBRUARY 2022
VALENTINE TEA DANCE with Vera the Diva
Saturday 12th 1pm – 3pm
Join Edurne as she leads us through a social foxtrot and the "American Smooth".
More details to follow
Free Freemasons Tour with Chris Barlow
Tuesday 22nd 11:00 – 12:00
Join Chris as he walks us through this magnificent building, which will include the stunning Grade II* listed Art Deco building, the Museum of Freemasonry and the magnificent Grand Temple.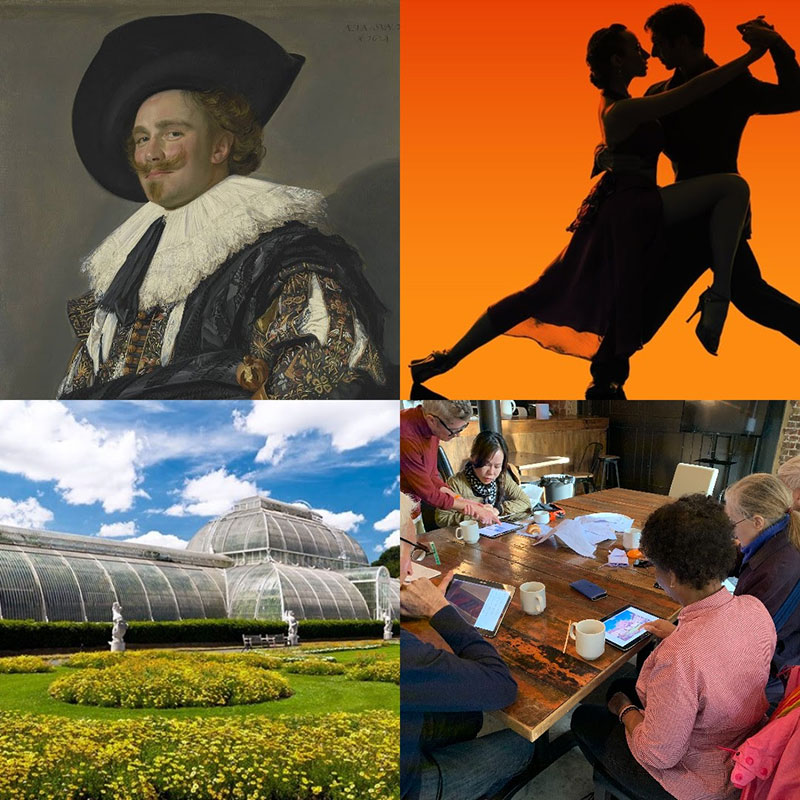 Timetable for 2022
Monday
9:30 – 10:30: Line Dancing (Zoom – starts 17th January)
Tuesday
10:00 – 12:00: Jewellery Class (Starts 20th January)
Wednesday
10:00 – 15:00: One-to-one advice from Age UK
10:15 – 11:15: Yoga
11:45 – 12:45: Pilates
18:00 – 19:00: French Conversation (Zoom – Starts 20th January)
Thursday
10:00 – 13:00: one to one digital advice
11:15 – 12:15: Flamenco
13:00 – 15:00: Digital Photo Class (Starts 20th January)
Friday
11:00 – 12:30: Coffee Morning
12:00 – 14:00: Lunch Club
17:00 – 18:00: Belly Dancing (Zoom – starts 14th January)